How to Travel Like a Digital Nomad, with Johnny FD

Yuli Azarch | August 6, 2018 | No Comments on How to Travel Like a Digital Nomad, with Johnny FD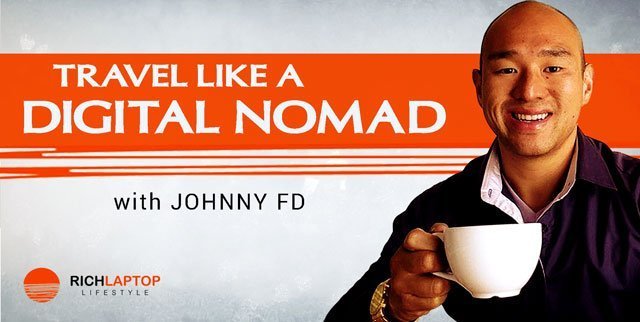 Johnny FD (@JohnnyFDK) is an author, a digital nomad and an entrepreneur.
He is also a Muay Thai fighter, scuba diver instructor, e-commerce, and online marketing specialist.  He is the host of Travel Like a Boss Podcast and host at the Digital Nomad Summit held in Chiang Mai, Thailand.
Johnny loves ChangMai because he believes it has a mixture of community, infrastructure, and ease of life. He wrote a popular book called, "12 weeks in Thailand: The good life on the cheap", where he shows you how to live there and work on the side. 
What we discussed with Johnny FD.
Who is Johnny FD?

His past, his present and his future

Combining work with travel

Digital Nomad Routines

Best places for digital nomads

Financial freedom

The Nomad Summit

What is home?

Favorite technology

Finding mentors

Future trends and opportunities
His journey.
At the start, Johnny FD was inspired by the book "4-hour work week" by Tim Ferris.
Johnny took the first step: Travel…
He decided to move to Thailand, and live cheaper.  Then, he took the second step: Automate Everything.
Johnny started following his passions in Thailand. He started scuba diving and fighting Muay Thai. He worked as a dive master and scuba guide, and he was able to not only dive for free but also get paid for it.
After doing too much scuba diving and kickboxing, he decided to publish a Kindle book, "12 weeks in Thailand, the good life on the cheap". This book is Johnny's life summary, on how he dealt with rejection, setbacks, difficulties and how he ended up living the good lifestyle.

"This book also taught me how to live location independent and how to start living really cheaply and enjoying life and hobbies."
According to Johnny, the book brought him a taste of online businesses and it taught him a lot of skills, like copywriting, marketing, launching a product, e-commerce. Once he got the skills, he went into drop-shipping, this is where he found a hobby… he built multiple 6-figure online stores and replaced his 9-5 income.
Today, Johnny is a digital nomad, he can afford as many scuba sessions as he wants. He does believe that his money is the greatest tool to live the lifestyle and that it is important to live comfortably. But, he thinks that the real wealth for himself is not the money itself but being location-independent.
Johnny still has his old Mac Airbook 2013 laptop from 5 years ago. This was all he needed to build his many businesses, and continue traveling the world.
He has been all over the place. Only this year… From California (his hometown), he went to Thailand for a month, then to Nepal to climb in the Himalayas, then Spain to start a cruise and end up in Greece. Then he went up to Bulgaria for a month, and I kept going East until he reached Ukraine.
Johnny has the flexibility to continue building his online empire while traveling and seeing beautiful places.
How does he do it?
Combining work and travel.
For Johnny, the most important thing to do is to travel slow.
"Think of the world as a big place, where you have unlimited time."
Johnny recommends avoiding the scarcity mindset while traveling Do not travel too quickly and try to see too much in such a short amount of time. It is not good for the traveling, because you'll get to see everything superficially but it also can make you a lot less efficient while working.
When Johnny is working and traveling at the same time, he would make a temporary home wherever he goes. That is the only way to avoid moving around too much and getting work done.
If you're moving cities or countries every 4 days, you're not a #digitalnomad, you're traveling.

— Johnny FD (@JohnnyFDK) June 6, 2018
"But I really think that we make our homes wherever we go"
Johnny suggests living a minimalistic life in terms of stuff. When you have a home it can be overwhelming to have too much stuff and think about moving out. All that stuff will hold you back. Johnny tries to be light wherever he goes.
Moving around too much can also make it hard to keep up with a routine. The longer you stay somewhere, the easier it is to maintain a morning or afternoon routine.  Check out, Johnny's amazing morning routine, from his own blog.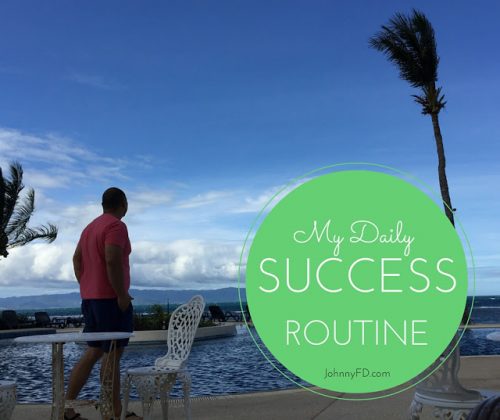 When traveling there are a lot of external forces that are difficult to fight in order to have a routine. That is why, Jhonny recommends to adapt to the country's culture and weather mainly, but always try to keep similar cues to keep your original routine.
For me, I have 5 Rituals when I get to a new place when I travel as a nomad that help me settle down and also grow my business.
His strategy? 
When Johnny is moving…
He goes online and books an apartment for a least a month. Then he would look for things like gyms, and co-working spaces. Johnny prefers to work in a co-working space where he can get the work done. Otherwise, he gets distracted at home, and he would waste time looking for a cafe every day.
"From there, I can guarantee that with just those 2-3 things, you can have a pretty good life. You are going to be healthy, active, you can have work done, and you are going to end up meeting people, just in those 3 places." 
When Johnny finds a home base he will leave all his stuff and travel on the weekends. He takes a really lightweight carry-on backpack and goes somewhere close by. Johnny suggests that, besides seeing the touristy stuff, go a bit deeper into the culture, like learning the language, a new skill, folk dance, etc.
This way, you can really connect with the city and its people, shoot photos, go to events, etc.
"I love places that have nature nearby, wether is surfing, or scuba diving, or hiking in the mountains. On weekends I can live the laptop at home, I try not to work on weekends. I will go 25 minutes away. I will have a beautiful beach."
To move from place to place, he likes to walk, but for longer distances, he always uses Uber or the Uber-like version of the country to move around.
His advice to future digital nomads…
Johnny wrote a blog post called "What is a digital nomad? And how to become one".
In a nutshell…
Don't act like a digital nomad, be one!

Don't travel too little but be aware of traveling too much.

Find someone to teach you, or find a mentor.
There, he explains the benefits of a digital nomad and dangers of traveling too much. It is pretty dangerous if you are acting like a digital nomad, even though you don't have a business that is bringing income to support that lifestyle. Digital nomads, don't usually work at the beach or in a hammock, they have spaces that make then focus and concentrated. Work somewhere that you can work, and forget about other things while working.
But there is also the danger of traveling too little, where you get stuck in a place.  Where you might get too comfortable, and start losing the positive side of ambition.
According to Johnny, "the definition of a digital nomad is someone, who earns a living with online technology and continues to move when there are better opportunities. A nomad basically chases the good weather or good WiFi…"
Johnny suggests following someone else who has already done it or finding a mentor. It is so much easier to learn from a digital nomad if you want to become one. For him, the best thing you can do is meet people in person who are either starting the journey themselves or are at the next level.
Thanks, Johnny FD!
Want to know more about him?
His two podcasts are "Travel Like a Boss" where he interviews digital nomads from around the world. And also "Investing like a boss", where he talks about finance.
You can also learn from him through his blog johnnyfd.com and if you want to meet him in person, go to the Nomad Summit.