Hiring Freelancers/VA's & Pre-Vetting Them W/ Nathan Hirsch, CEO of FreeeUp

Yuli Azarch | July 15, 2019 | No Comments on Hiring Freelancers/VA's & Pre-Vetting Them W/ Nathan Hirsch, CEO of FreeeUp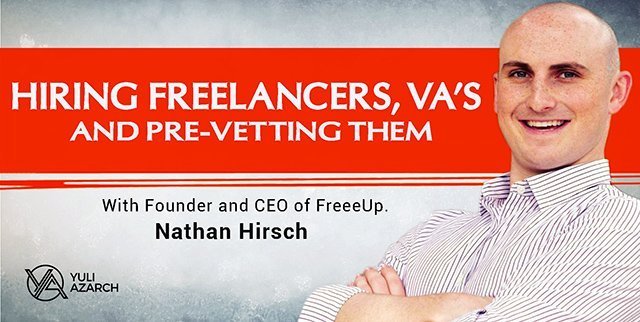 Watch the interview below:
Listen to the interview below:

"For me is about the speed. the time is the one thing that you don't get back as an entrepreneur, so anything that you can do to get talent faster to me that's what separates us and that's why I built Freeup" — Nathan Hirsch.
Nathan Hirsch is the founder and CEO of Freeeup, a marketplace that connects business owners with the top 1% of all virtual assistants, freelancers, and agencies, focusing on e-commerce, virtual marketing, web development and much more. Freeeup lets you hire pre-vetted freelancers in less than one business day.
What we Discussed on the Show? 
Nathan's Background.
Nathan grew up with the traditional mentality. He knew that he was going to go to school, get a real job, work for 30-40 years and finally retire. But he learned at a young age that, that wasn't the path he wanted to follow. 
He worked Summer jobs since he was 15 years old. He was the kid working 40-hours a week while his friends were playing outside. At a young age, Nathan learned a lot about sales, customer service, and managing people.  
"I also learned that I hated working for others."
Nathan used the money he earned in summers to buy people's books. He created a bookstore that competed with his school bookstore. He built it through a referral program and managed to get tons of people to sell him their books. This small business was Nathan's first glimpse into being an entrepreneur.
Later, he started experimenting with selling other stuff, such as sporting equipment, video games, computers. But unfortunately, he failed over and over again. "It wasn't until I branched out of my comfort zone and found out the baby product industry. Really through trial and error, my business blew up," said Nathan. "I knew very little about e-commerce, everything was a learning experience."
Hiring His First Employee.
In the beginning, Nathan didn't think it was necessary to hire anybody. He thought that hiring somebody would be a lot of wasted money, or the new hire would steal his ideas or hurt his business. 
But his busy season came around the fourth-quarter, and he was not prepared. Consequently, he was working 20 hours a day, his grades degraded, his social life was gone, and he was well on his way to burnout. He continued working like crazy for over 60 weeks just to get to January.
He learned the hard way, that he needed to hire someone. 
"When I finally got through the busy season [I said to myself]… I can never let that happen again, I need to start hiring."
Fortunately, his first hire was a smart and hard-working person. He helped him grow the business, eventually became his business partner with the Amazon business and ended up being the co-owner of Freeeup.
After that lucky hire, Nathan made many hiring mistakes and ended up making bad hire after bad hire. He learned that hiring college kids in person wasn't a good plan, so he went out looking to the remote workforce. He found out some good people, who are still with him today. 
Nathan said he hated the hiring process. It took him way too long as an entrepreneur, to post a job, get a hundred applicants, interview them one by one. He just wanted something better and faster. That is when he came up with the idea to build Freeeup. A place where they vet applicants before they offered their services.
View this post on Instagram
From a Drop-Shiping Business.
Nathan Hirsch got into drop-shipping business with textbooks. He created his Amazon account to sell books, but then he had to stop this business. Through trial and error, he finally figured out what worked and what didn't.

For Nathan, drop shipping came out as a necessity. Because he had no warehouse, he had no money to buy inventory, and he couldn't take too much risk because he was in College debt.  
"So [I loved] the concept that I could ship something I didn't have and get it shipped from someone else who made the product and make the difference between what I sold it for what I bought it for."
He went entirely remote with the Amazon drop-shipping business. And at one point Nathan's Amazon was doing over 5 million dollars a year and then the market became saturated. Everyone started to sell on Amazon, so he decided to open Freeeup as a side business. 
According to Nathan Hirsch, the Freeeup business took off and within a year and a half, they surpassed the Amazon business and became a pretty easy decision to focus on Freeeup and grow the business and brand.
A Hiring Platform Was Born. 
He used so many different platforms and marketplaces, but he wanted something faster. Nathan was wasting so much time interviewing people. He wanted something where he could just tell the marketplace what he wanted, get somebody that was already vetted and start working right away. 
"For me is about the speed. The time is the one thing that you don't get back as an entrepreneur, so anything that you can do to get talent faster to me that's what separates us and that's why I built Freeup" 
The 8 years spent in the Amazon business gave Nathan a good hiring process. He and his partner were very confident that the people that got through their vetting process were going to be good fits. They were vetting people, not just for skill but for attitude and communication as well.
They created the Freeeup platform around the same hiring process that they were using for the Amazon business. 
A few years after, Freeeup really took off, thanks to the good marketing strategy. They did an amazing referral program and sharing the story on podcasts.
Pre-vetting People for Skills, Attitude, and Communication.
For years, Nathan used to vet people just for skills. He hired people with years of experience, great reviews, nice resume, but three months later they would turn out to be bad fits. "That is when I realized that skill was just part of the equation," said, Nathan. "For skill, we don't need everyone we hire to be at 10 out of 10, right? you can be a 5 out of 10… what we care about is that you are honest about what you can and cannot do and that you are priced accordingly."
At Freeeup, they put people through skill tests. They also do one on one interviews to learn about their attitude. They look for people who are passionate about what they do, that aren't there only for the paycheck, that don't get aggressive when something doesn't go their way,  and that can take feedback without taking it personally. 
"So when you are vetting for attitude, you are really not looking for the right answer you are looking for the red flags."
According to Nathan, communication is everything and is the foundation of the Freeeup platform. If you hire someone with great skill and great attitude but you can't communicate with them it's not going to work out. 
Freeeup best practices for communication:
Responding within a business day. 

How to handle emergencies.

Learn how to set due dates.

Find out how to get on the same page.

How are language skills?
According to Nathan, it is a tri-factor of skills-attitude-communication. 
Learning from experts and studying best practices for your industry is great, but don't be afraid to try your own ideas. https://t.co/yHrUbvMu8x

— Nathan Hirsch (@realNateHirsch) June 26, 2019
The Red Flags When Vetting People. 
Nathan and his co-founder like to challenge people during the interview process. They imply that they don't think they have the skills they think they have, or that something is too difficult, that being on the marketplace is tough. They want to see how people handle adversity through the interview process. 
The idea is to get them outside their comfort zone and really understand what they are like. 
Freeeup puts the freelancers through a process where they must fill out an application, answer some questions, they have a one-on-one interview, and they have to study the communication best practices.
"Everyone is all warm,  fuzzy and nice, when things are going well, [but the real test] is how do you handle when things are not going well. That is how you really tell what a person is like"
The Hiring Process. 
Freeeup has a hiring process, which contains 6 interview questions to ask. One of the first things we ask the candidates is to rate their skills from 1-10.
According to Nathan Hirsch, self-rating can tell you a lot about a person. If someone has been doing something for 6 months and they're saying that they are a 10 out of 10, or if someone has been doing something for 4 years, and they say that they are a 2 out of 10. 
They talk to the freelancer about the commitments of inside and outside the marketplace, and about how they must prioritize things. 
According to Nathan, an essential thing to know as you hire someone is, what are the qualities that the freelancer cares about? is it, being on time? being a perfectionist? is it just pay? At Freeeup they want to understand what are the things that they care about in a marketplace.
Keys for Hiring?
Figure out your budget.

Find out what you want to take off your plate.

Figure out what the perfect person looks like.

Start the interviewing for the tri-factor.
According to Nathan, the first step is to figure out what your budget is. Figure out how aggressive do you want to be with the money that you want to invest. Maybe a 40 to 60% of your profits go back to the business. If you want to be more conservative, maybe it is 10% to 30%. 
The next step is to create two lists. The first list is everything you do on a day-to-day basis. You want to prioritize that list with things that take up most of your time that are easy and you don't like doing, those go at the top of the list. The goal is to get your time back. The second list is everything you're not good at. These are the tasks that you are doing every month that are outside of your core competencies. 
The last step is figuring out what your perfect person looks like. Is it a full-time employee at your office? is it a virtual assistant in the Philippines? or is it a part-time freelancer?
How to Set Up Expectations.
At Freeeup they have a client expectations doc that you can get right inside the hiring packet. You laid out, what your business is like, what constitutes success and what constitutes failure, and what are your pet peeves as a business owner. 
The idea to set expectations is to get 100% on the same page, so everything is either black or white. According to Nathan Hirsch, the last thing that you want to do is turn into a "he said, she said" down the line. 
The other thing Nathan does to set expectations is to scare people off a little bit. He wants them to know what they're getting themselves into. He wants to communicate the very high expectations they have at Freeeup before they start working.
"We don't work with people that don't hit the expectations, we don't work with people who miss due dates and who don't communicate."
Nathan would rather have someone hear the expectations and have them reply back before starting to work together.
Communicating Via Text.
Nathan loves doing everything via email or Skype. If it is a conversation or an interview or setting up expectations, most of the time, he uses Skype. The reason is that he likes to get everything in writing while having a conversation. That way he can come back and use that text as a reference.  
Nathan does not discard audio and video, but he recommends that at the end of the call, you should write up an email with everything you talked about and have them confirm it. Do not move forward without getting everything in writing and receiving a confirmation.
"I keep everything in writing on Skype as much as I possibly can, 99.9% of the time. But if I do have to have a phone call with someone then I'll make sure that I at least get some part of it in writing." 
Onboarding Virtual Assistants, Freelancers, and Agencies.
According to Nathan, there are different processes for hiring a virtual assistant, a freelancer, or an agency. If you are hiring a freelancer or an agency, you are going to have to provide information about your business and identify the scope of the project.
It is also important to include any types of revisions, expectations, and get feedback. The idea is to make sure that you put them in position to succeed. But always keep in mind that you're one of their many clients and the way that one of their other clients liked it might not be the same way that you like it.
When hiring a virtual assistant, you want to provide the same things as commented above, plus SOPs, or day-to-day operations on your business. If you don't have the ABCD steps in your business, you're not ready to hire a virtual assistant.
Nathan loves to use the following tools: 
Communication and collaboration: Skype, Trello, Google Docs, Google Folders.
For developers: Jira.
Mistakes When Outsourcing.
According to Nathan, one of his biggest mistakes was hiring a manager to do everything. He spent six months teaching him how to do every part of the business, from customer service, listings, filling orders, etc.  In the end, it turned out to be a great person. The manager had good control of Nathan's entire business. 
But…
Just as Nathan went on his first vacation, the manager quit on him the very next day.
According to Nathan, finding the right VA or freelancer and loading that person with everything on your business is incredibly risky. He recommends to diversify, hire different people for different things and build out separate teams.
You have to hire if you wanna take it to the next level. https://t.co/gxriWISyPt #entrepreneurlife pic.twitter.com/bxOwOd8RZB

— Nathan Hirsch (@realNateHirsch) June 24, 2019
How to Find the Right Fit? 
According to Nathan Hirsch, there are three basic levels of freelancers that you can hire, basic, mid, and expert. A basic level freelancer is a follower. If you have your systems and processes in place, and the better the process is, the less you can pay.
Then you got the mid-levels, the specialists, graphic designers, writers, bookkeepers, etc. The mid-levels are not consulting with you, they are not following your process, they are just doers.
Then you got the experts, the 20/hour and up, high-level freelancers, consultants, agencies. You are hiring experts to bring their own strategy and expertise to the table.
To find the right fit, you have to sit down as a business owner and ask yourself: am I, 
stuck in the day to day operations and I need to get my time back? 

doing projects that are outside my core competency or are projects building up? 

taking something new that I don't have time to master and I need to hire an expert to come in and bring their strategy?
Agencies vs Freelancers? 
According to Nathan Hirsch, agencies are great if you want something that is scalable. 
If you have a business and you hire one person, eventually it is too much work for one person, so you have to hire a second, and a third, and so on. In an agency, you get someone that has their own systems in place and they are usually highly scalable.
Nathan believes that the problem of hiring one person is that you have a dedicated person but it is also risky if they quit. That means you have to start all over again.
The benefits or agencies are: 
They rarely quit on clients, 

Agencies are there for the long run, 

They are more scalable. 
With an agency, you are paying a little bit more but you are also getting their systems, their processes, and their structures.
Freeeup works with smaller agencies in order to keep quality high. They like small agencies because they can give the customer similar customer support that they get with the freelancer, and at the same time, they get the agency that is more scalable.
Show Notes.
Thanks, Nathan Hirsch!
Go to Freeeup.com. You can book a free meeting with Nathan, click on the calendar right at the top. Create an account, mention the StepUp podcast and get a $25 credit to try us out.