5 Learnings From Tony Robbins Business Mastery

Yuli Azarch | July 30, 2019 | No Comments on 5 Learnings From Tony Robbins Business Mastery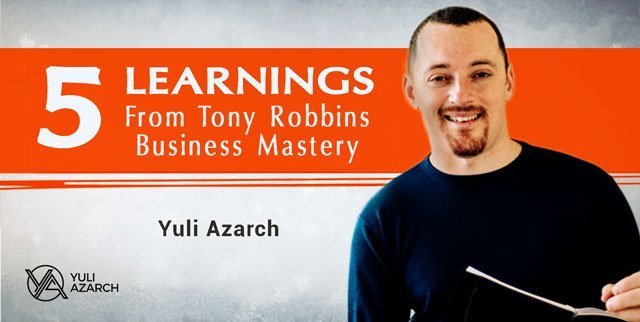 A few months back, I attended an intensive 5-day event with Tony Robbins called The Business Mastery. This seminar covers topics ranging from businesses strategy, innovation, marketing, sales, and ideas to grow your business.
After attending this fantastic event with Tony, I came out with my personal five nuggets of wisdom. In this brief post, I will show you these five key distinctions which I took after the event, and that will make a big difference in my life and business.
There are three different types of people.
Grow a business dramatically, just by optimizing parts of it.
Schedule more scheduling time regularly.
Follow your heart, not your head.
The chokehold of every business is always the owner's psychology.
1. There Are Three Different Types of People.
The Artist, the manager/leader, and the entrepreneur. The Artist is in love with the product. He does not want to sell his business because it is his baby. A Manager/Leader is a person who is good at systems, processes, and managing people. The Manager/leader will be head-on, applying procedures, and putting attention to small details. The entrepreneur is the risk-taker. He is there for the money, has the vision, and takes the biggest load of risk. 
Every single one of us has a mix or combination of these types. But what is essential is to know who you are at the core. By knowing who you are at heart, you'll notice how much time you are spending on this personality. Knowing your character at heart will also teach you about what is missing and how you can use other personalities to complement yours. The idea is to learn who you are and utilize your skills.
2. Grow a Business Dramatically, By Optimizing Parts of It.
You don't have to optimize the entire business, just by improving a few different parts of it, you can grow it faster and better. Sometimes, if you only maximize a component like a Website in the correct way, it can double the income. If you improve a specific part of the business by 5%, 10%, 15%, it will create dramatic growth in the end. 
For example, if you do small optimizations in your funnel and if you are capable of measuring and improving those small parts of your business, they can potentially triple the business. You can grow the business in minor optimizations, so you don't have to go out and do drastic things.
3. Schedule More Scheduling Time Regularly.
If you are in business, thinking and strategizing is one of the most valuable things you can do for your business. Those are the things that you can't outsource. Even in large companies, strategizing and thinking cannot be outsourced entirely; they are done by the CEO, the founders, or the owners. 
So, ask yourself, can I schedule this time on my calendar? Do I have time once every other week, where I can think? Am I regularly leaving at least two hours per week, to think, with no distractions? 
This time is where the most significant opportunities for growth will come. These time likely will bring most happiness and money, because you are sitting outside the business, thinking and journaling about how can the company be improved.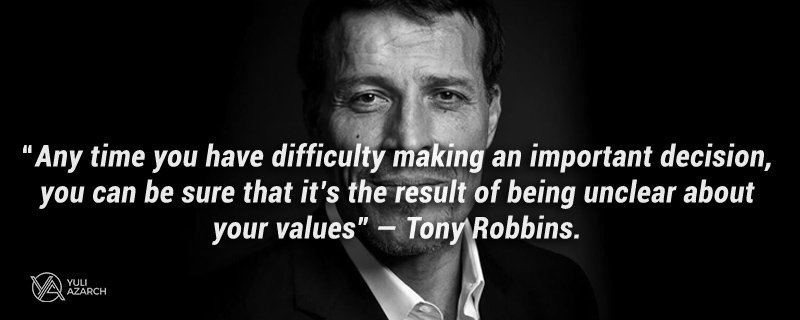 4. Follow Your Heart, Not Your Head.
Most of the time, we are stuck in our heads. It is very easy to get stuck running around our heads, thinking that we are right. But the wisest decisions do not always come from the head. The best decisions you can make when it comes to business, come from the heart. Tony Robbins says, "Businesses is a spiritual game."
There are some exercises that'll get you more aligned with yourself and with your heart. For businesses, ask yourself where can you grow a more significant business, something that is aligned with your heart, and not past experiences, fears, predictions, etc. What you do in business is essential and will have an impact on your life. You might have to turn down business to keep yourself sane and allow yourself you grow in the long run.
5. The Chokehold of Every Business is Always The Owner's Psychology.
The last important distinction that I learn at the Tony Robbins Business Mastery is that the chokehold of a business is not on its strategy; it is on its founder's mindset or psychology. Usually, people don't lack a plan on how to execute something, grow a business, and own it. Almost every single time, the limitation is on their psychology. Something that the business' owner didn't see or feared will be the determent of a growing business.
Most of the information on how to grow a business is public. You have blogs, podcasts, Youtube videos, to learn any skill quickly. What stops people is their psychology, with their fear, worries, anxieties, etc. It is crucial to learn about your psychology and work on it. When you are doing business, it is far more essential to work on yourself than the company itself. Work on yourself, to make sure to can produce the best version of you, and thus bring in more dividends.