Screw Nine to Five & Master Your Life With Josh Stanton

Yuli Azarch | July 9, 2018 | No Comments on Screw Nine to Five & Master Your Life With Josh Stanton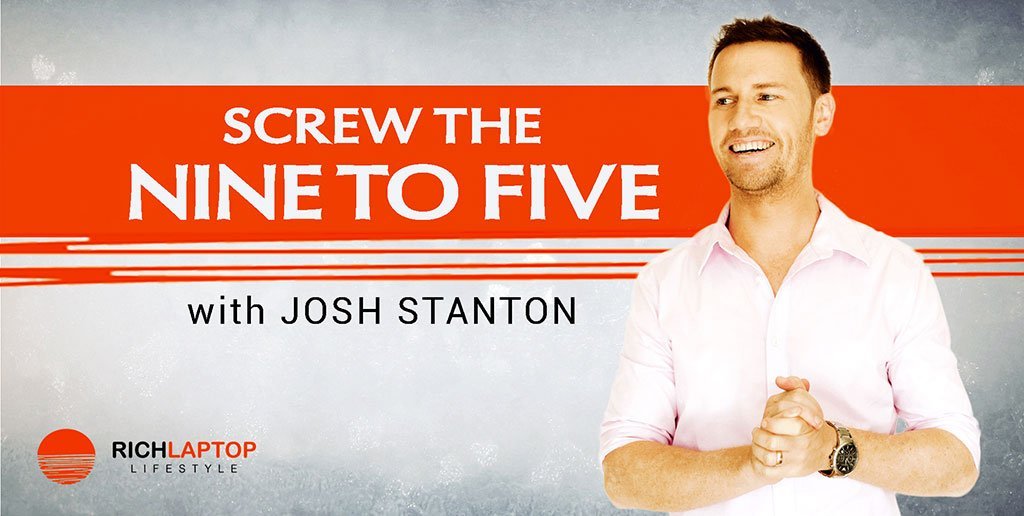 Josh Stanton (@screwthe9tofive) is the creator of Screw The Nine to Five. 
Together with his wife Jill (@Clark_Jill), he teaches aspiring entrepreneurs how to reject conventional wisdom and the career trajectory society wants them to follow, and instead go do something different with their lives.
The couple shares the journey of starting an online business and being location independent and shows others how it's done.
Their values include reaching balance in your life, business, and health. In today's interview, you'll learn how Josh started, came up with his first business idea, and went onto creating bigger things that provide value to the right people.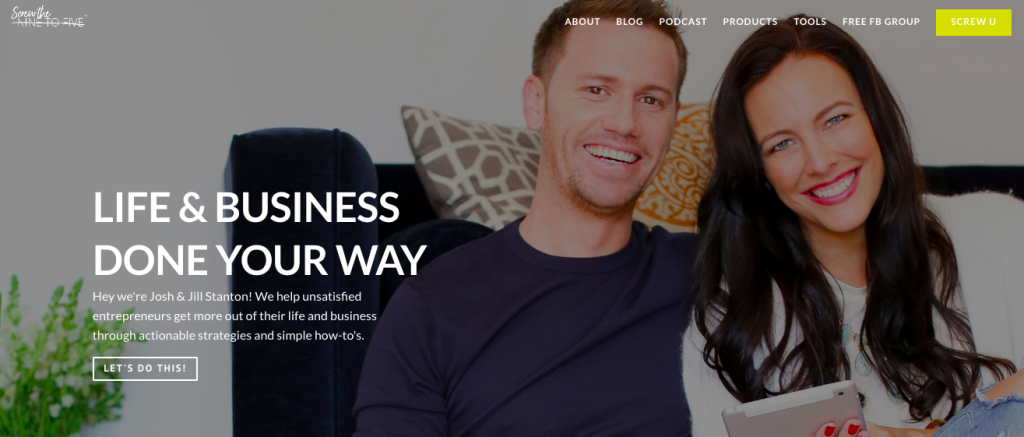 What We Discuss with Josh Stanton
The one conversation that made him drop out of university;

Getting started with online business;

Why your first business idea might not be what you expect;

How Josh and Jill came up with the idea for Screw The Nine to Five;

Turning your site into a business;

Setting limits to how much you work;

Using a platform like Screw The Nine to Five to build a community;

How to improve your life, business, and health at the same time;

What to do every morning to set yourself up for success;

How to run a successful business with your partner.
Who is Josh and What Does He Do
Josh Stanton started the way most people do when they aren't sure what path they want to follow – he left college and went to university to study something he wasn't passionate about because he felt that's what he was supposed to do.
Eventually, he realized he doesn't have to.
Instead, he had a choice.
So he dropped out of university even though he had no idea what he was going to do next. While confused what the next step is at first, he quickly found out that the possibilities were endless now that he left the standard career trajectory.
His first online business succeeded after he and his business partner experimented with a few topics, chose the one that seemed to have the potential to earn them profits, created a book on it, and made $10,000.
That helped him build momentum. After creating more digital products and getting to know what people want, he felt confident in his skills and decided to do something bigger, something related to a topic he was passionate about.
He then partnered up with his wife to create Screw The Nine to Five, which started as a blog documenting their journey and sharing the good and bad of living the location independent lifestyle and being an online entrepreneur.
But soon Screw The Nine to Five grew to a community of people starting their own businesses and Josh and Jill now earn their income by teaching the students how to do it right and giving them the tools they need to get there faster.
We All Have a Choice
"We follow the same path up until the moment we become adults. Then, all of a sudden, we're faced with this situation where we are not dependent on someone else to make decisions for us. We are making our own decisions."
Josh clearly remembers the time in his life before he found the right path, before being his own boss and having a community over at Screw The Nine to Five.
The 2-hour commute every day on the way to university and back was exhausting and he found no meaning in all this.
It wasn't until one evening during a conversation with his dad that it struck him. Until then, no one actually asked him if he's happy with the direction his life is taking and what he's currently doing. Like many other people who live the way, they are supposed to, even he himself didn't have the time or energy to come up with that question.
His answer was simple: "No, but that's what I'm supposed to do."
And he will never forget what his father replied:
"You don't have to do this if you don't want to. You have a choice."
That was all he needed to hear. The very next day, he dropped out of university, ready to do something he actually cared about and which was a better use of his time.
Giving Online Business a Try
Once he stopped following the path that society has planned for him, Josh saw that we all live in a world filled with opportunities. The very first aspect of life he wanted to take control of was his financial situation.
He knew he had to find a way to start earning money and there was no better way to do that than to have an online business. That's one of the reasons Screw The Nine to Five exists.
What's the quickest way is to turn your day job into an online business? Listen in & find out https://t.co/9e1GexZ4uD pic.twitter.com/e1cNos3kXr

— ScrewTheNineToFive (@screwthe9tofive) September 13, 2017
Most people start an online business because they want freedom and the ability to travel. And that's a good enough motive to get you on the entrepreneurial roller coaster.
In the beginning, it's usually something you read from a successful online business owner that inspires you to give your business idea a try. Or it could be a book, a podcast, a lecture.
In Josh's case, it was a course by Frank Kern, a renewed marketer, teaching him how to use the power of strategic advertising to generate profits.
Josh had a business partner back then. They both thought of a few topics and gathered feedback by people to see which one would perform best. Their desire was to create an eBook on it that they could sell.
Surprisingly, the topic that stood out the most was 'how to take care of your goldfish'. As it wasn't a competitive niche but they saw the demand, they immediately went after it and that was the first official business venture in their career.
The Art of Working with What You Got
It was time to write the book, which was something Josh planned to outsource. However, at the time they didn't have any money to invest in their business and hiring a ghostwriter that would do a good job would cost around $400.
His desire to succeed required sacrifices, though and the very first one was selling his golf clubs in order to pay the writer and create their first digital product.
That paid off as the book was a success and made the guys over $10,000.
Aside from the financial bonus, what makes this moment important is this:
"Your first successful online business opens up your mind for what people want and how you can give it to them by selling it on the Internet."
A small success helps you build momentum and get to the next level. The knowledge and experience you gain are powerful, and you have all the time in the world to fail and experiment.
So whoever you are, whatever your background is, you must make a list of ideas, validate them and take action upon the one that seems to be most profitable.
Idea Validation: How To Find and Validate an Idea for Your Online Business https://t.co/9INz9ymhYx

— ScrewTheNineToFive (@screwthe9tofive) January 1, 2018
Be resourceful and find ways to make it happen. In the worst case, you'll learn what to do better next time and will gather valuable insights about the industry and what people want.
Don't Be Afraid to Take Things to The Next Level
After the goldfish business idea…
Josh and his partner moved onto creating online courses and even selling software. But then came a point when, yet again, Josh was faced with the same question: What am I going to do next?
It's interesting how we might often ask ourselves the same question at different stages of our lives. The reason might be different and finding the answer is a must if we want to keep following the right path.
If you're wondering the same thing although you're already doing something you love, that's okay. It just means you're ready for different things or just want more out of life. That requires self-awareness, an honest conversation with yourself, a different approach, and a fresh perspective.
You owe it to yourself to find the answer and do something about it.
As Josh was getting married that year and his focus and aspirations were now related to lifestyle design and location independence, he partnered up with his wife and got into affiliate marketing.
He and Jill experimented with different niches until they had 30-40 affiliate sites that were bringing in a 5-figure income.
Design Your Business Around Your Life
It's easy to fall into the trap of growing an online business, jumping from one idea to the next, perfecting aspects of your existing business and losing sleep over little issues. At the end of the day, however, you might still end up living like an employee.
But the truth is…
that's not how you're supposed to live. Being an entrepreneur is a way to set your own working hours, earn passive income, travel, reach financial independence, and more.
At some point, it's important to stop being in front of the laptop 24/7 and go out and live. Location independence can only be experienced when you appreciate what's around you, connect with others, try new things, and take risks. And your online business will still be there if you did everything right.
Josh and Jill moved to Thailand soon after they got married and wanted to create a site that will be for anyone looking to live the same lifestyle they were now enjoying.
That's how Screw The Nine to Five was born.
Why Having a Platform Like Screw The Nine to Five Matters
Screw The Nine to Five allowed Josh and Jill to connect with other people who wanted to start or grow their business so they can ditch conventional wisdom and use their time and skills more effectively.
The site soon evolved into a business as the readers of the blog were constantly asking how all that is done. So it was time for its creators to show them exactly what to do to live the same lifestyle.
Their first attempt at monetizing the blog wasn't well thought-out. They launched a course with 500 people on their email list, but they didn't ask anyone what they wanted.
So the product launch failed.
Josh and Jill learned from their mistake and started paying more attention to what their readers want and making a connection with them.
Their next project was Screw U (U is for university) – a membership community of online entrepreneurs that provides them with the tools and training necessary to help them leave the 9 to 5 and live a lifestyle by design.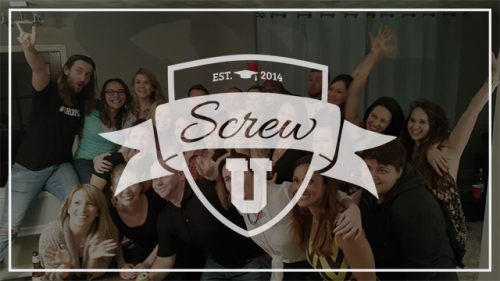 Starting The Day Right
As the priority in Josh's life is finding the balance between life, business, and health, he has to structure his days right to make the most of each. That's when a morning routine can help.
He has one that works quite well: that includes…
Meditating first thing in the morning,

Followed by drinking a liter of water,

Hitting the gym for an hour,

Skipping breakfast,

Spending time with the family.
Such a start can set anyone up for a productive and more meaningful day. When a few hours of focused work are done right after that, you accomplish much better results.
Growing Bigger Than You
Josh talks about the importance of taking a step back instead of constantly working on the business as this allows you to see where you might be missing something.
Being stuck to the computer for months might block your potential and prevent you from seeing the key things, such as what your readers actually want.
Josh Stanton's Final Tips for Creating a Great Lifestyle
"Ask yourself how you can start acting like a successful entrepreneur right now."
Make sure the business idea you come up with is actually a business and not a charity. Move to a market where there's existing money.
Build traffic and attention around your brand.
Then learn how to convert that traffic as it comes in. That's when your business can scale further than you can imagine.
Here are some resources from the show:
The UnderAchiever Method, a course by Frank Kern

ScrewU
If you liked today's episode, don't forget to leave your feedback.
See you next time,
Yuli