How to Travel The World For 9 Years with Melissa Ng.

Yuli Azarch | April 12, 2019 | No Comments on How to Travel The World For 9 Years with Melissa Ng.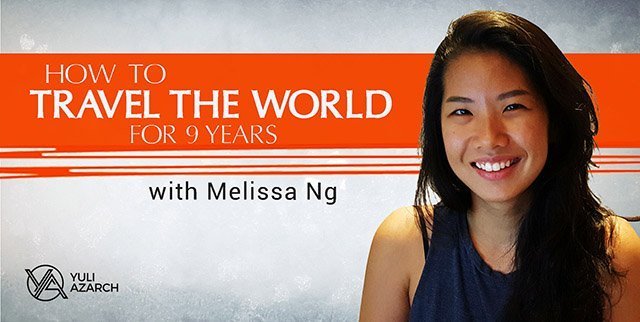 Digital Nomad, Product Designer, Founder of Melewi. Interviewed by Yuli Azarch.
Melissa Ng (@thedesignnomad) is a Digital Nomad, Product UX designer, and a Nomadic Entrepreneur. She is the founder of the location-independent UX design studio, Melewi (@melewi).
What we Discussed with Melissa?
Her Background.

Nomad by Accident.

How Things Have Changed for Nomads.

What Really Works.

On the Go!

Choosing a Destination.

Routines and Habits.

Nomad Sacrifices.

Dealing with Friendships as a Nomad.

Favorite Places.

Nomad Lifestyle is Not For Everyone.  

Favorite Nomadic Tools.
Her Background.
Melissa is originally from Singapore. She has been traveling for more than nine years around the world and seven of those years running her company remotely. She started hiring when Melewi had too much work. Now they are eight members of the team. They all work from different places and have similar lifestyles.
Melewi is her first business and has been managed completely remotely since the beginning. She recognized that after close to a decade on the road, there have been many lessons learned.
"I have learned a lot on the personal, I have been forced to grow up, probably more than I was waiting for! But it's been a pretty good journey and I am really excited to share what I learned and I have discovered".
Nomad by Accident.
She became a digital nomad by accident. After school, she decided not to go to university and started freelancing as a designer right away. She did not care about being broke, success or status, but about doing her own thing.
"I was tired of people telling me what to do and when I had to do. I wanted more autonomy"
When she was 20 years old, she got a job offer to work from Vietnam and decided to move there. The work did not turn out well so she continued freelancing. There, she realized geography did not matter because she had clients from different countries.
How Things Have Changed for Nomads.
According to Melissa, nowadays, there is a lot more information and confidence in this movement. Many people share their experiences and you trust them because you can see people living this lifestyle.
Nine years ago, she had to learn many things on her own.
Melissa has had big challenges, personal and business related. Still now, nine years later, she is learning and being tested by lifestyle. She considers that is quite difficult to find a healthy balance when you are a digital nomad.
"For me is really about something sustainable and something that is for yourself, not for other people".  
What Really Works.
For Melissa what works the best, in order to be able to enjoy this lifestyle, is to keep learning, growing and changing things up.  
"treat it almost like your lifestyle is your own personal project. It's not just something that happened. You have to be very active about it!"
Melissa recommends to level it up and put systems in place.
When new things and conditions arise, she has to learn on the go. She confesses that she treats things on her life like a project or a business. She recommends being very conscious of the sacrifices anyone has to make. Also, constantly ask yourself if this is worth it, if you can change it, if not, can you accept it?
She highlights the need for introspection and mindfulness, about your personal life and your values. It is important to have clarity on what you want and you don't want at the end of the day.
She admits that this lifestyle comes with great things but also with a lot of sacrifices.
"Being a digital nomad is almost like a promised land: this is heaven now, oh no! heaven is not that great after all! Where do I go from there?"
On the Go!
Melissa uses a travel board to keep track with multiples list:
First list:

Visas. There she notes all the information about her visas.  Which visas she needs, which one she has active and when do they expire?

Second list:

Template checklists. She has developed a checklist for packing according to different seasons in different regions. Also templates for work-related things she needs, countries she wants to see, people to want to visit and errands she has to run.
When being all the time on the road, it is crucial to plan ahead to make sure you get supplies at the right time. She keeps constantly updating her checklist.
Choosing a Destination.
Most of the time Melissa chooses her destinations based on a combination of activities she is interested in doing. Some other times she just gets invitations from friends or events.  
She also leans more into what she wants her personal life to be.
"At the beginning were more big cities…but over time I started appreciating the outdoors and nature and quietness…so I started considering, instead of an apartment in Paris, a cabin in the woods in Japan".
First, she decides the lifestyle she wants to live and combines it with opportunities that come up.  
Routines and Habits.
Melissa divides her day into four main shifts. Two shifts are reserved for work-related issues: one is for her calls and the other is to do the actual work.
The other two are for, hobby and relax time. She usually divides them as: morning, afternoon, evening and night, being the latest one usually reserved for more relax personal stuff.
But she still needs to set up a system to help her avoid work on weekends.  She also arranges the shifts according to the time zone.
"The important thing is not to sacrifice your personal life, but also not ignore your work."
Nomad Sacrifices.
According to Melissa, she sees two types of sacrifices that come with the lifestyle: the ones you can't fix that come with the lifestyle and those that you can fix but come with a price, (money, time, or effort wise).
One sacrifice you can't avoid is losing touch with people.
She considers that there are some "sacrifices" you can avoid. They can get easier when you have a routine, like being fitter or being healthier. Some others might need special equipment. But most of them are possible to overcome by putting effort.
"You need significantly more effort to overcome these sacrifices across each one and they really stick out over the time".
Dealing with Friendships as a Nomad.
Melissa has always considered that a friendship needs to be deep.
According to her, friends had to have things in common and shared history.  Those things, especially for nomads, are almost impossible to combine. With the time she has expanded her definition of friendship and her corresponding expectations to get everything much more manageable.
She has learned what to expect and what to put in, not to be disappointed. She differentiates friendships by multiple levels of intimacy and has accepted that one can have a different type of friendships.
"You can have friends, that you put the time and the effort and you expect to see them ten years from now".
Favorite Places.
Melissa's favorite places.
New Zealand:

Gorgeous place, like the outdoors, is very chilled and peaceful.

Japan:

cool place, great food, interesting culture, and good people.
Before I used to like more big cities like Paris, London, Berlin; but now it tends to be places that are more personal.
Cambodia:

I used to love it when I was younger.

Vietnam:

her chaos is very refreshing. I love chaos because there is some freedom in it, nobody tends to judge you in the middle of it.
Nomad Lifestyle is Not For Everyone.  
"Yeah! It has its ups and downs along with the sacrifices"
She considers that is not a lifestyle for everyone. Although it looks sexy and paradise from the outside for some people the sacrifices along with it, are not worth it.
She knows this lifestyle suits her but she does not know if she will do it forever. She can see herself doing it for a bit more because she values autonomy and independence.
"I like to explore new things, just keep being outside my comfort zone in simple ways".
Lessons Learned?
The travel has thought Melissa to be more open-minded. She has found other perspectives that I did not know they existed.
Because she has been forced so many times to look at things from different perspectives; she now considers that the way you see the world is through a relative perspective.
Melissa has also learned to be a weird combination of both: being independent and not being afraid to depend on people.
Favorite Nomadic Tools.
"Being as organized as you can be is the key. The only way to do that is systemizing what I am doing."
Spreadsheets.

Calendars and reminders.

Checklists.

A notebook.

To do lists.

Packing cubes.
According to Melissa one of the most important tools is communication. She tries to make sure her team knows where she is, this helps when they have time overlaps. She keeps people up to date and has her simple systems of how to work together.
To help here achieve communication and collaboration, she uses a tool called, real-time boards.

Show Notes.
Thanks, Melissa.  
For work-related conversations contact Melissa through thedesignnomad LinkedIn account. Her Instagram account thedesignnomad, or email her to [email protected]