How To Start Your Journey to Freedom, with John Lee Dumas

Yuli Azarch | August 16, 2018 | No Comments on How To Start Your Journey to Freedom, with John Lee Dumas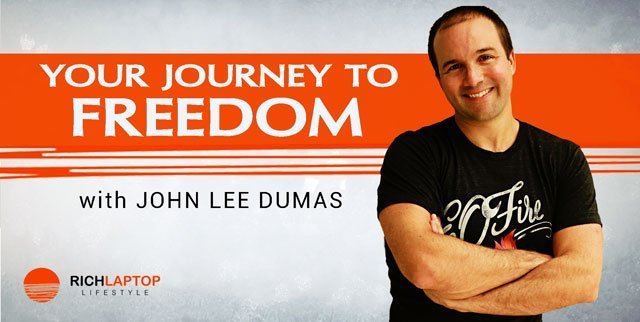 John Lee Dumas is an American entrepreneur and popular podcaster.
He is known for being the founder and host of Entrepreneurs On Fire "EOFire", a podcast show where he interviews entrepreneurs every single day. EOFire has hosted over 2000 successful entrepreneurs including, Gary Vaynerchuk, Barbara Corcoran, Tim Ferriss, Seth Godin, Brian Tracy, and Tony Robbins.
John has been so successful building up his podcast that he created a free podcast course, where he will guide you through creating and launching your podcast. He has also created a free Webinar course.
In 2016, he launched The Freedom Journal, an amazing journal that guides you to accomplish your number one goal in 100 days.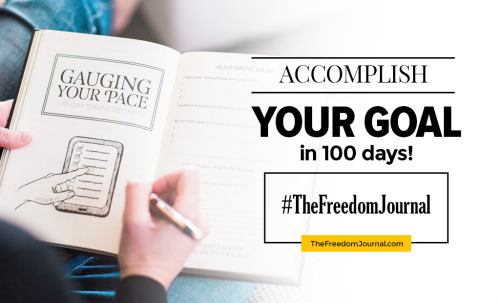 What we discussed on this show:
The real definition of Freedom. 0:00:06 – 0:01:52
The Have-To vs. the Want-To. 0:01:52 – 0:03:10
Who was John before EOFire? 0:03:10 – 0:07:00
Who are John's influences? 0:07:00 – 0:08:21
Where does he see himself in the future? 0:08:21 – 0:10:01
How to build a successful podcast? 0:10:01– 0:11:20
How to launch work that matters 0:11:20 – 0:13:46
John's new hobby: The Infrared Sauna 0:13:46 – 0:14:34
Daily Habits. 0:14:34 – 0:15:41
Where to find John? 0:15:41–0:16:42
Freedom: To live as you want.
For John, being able to choose whatever he places and executes in his schedule is the real meaning of his freedom. He can really choose what to do whenever he wants it.
A couple of weeks before traveling anywhere, he works hard to create content and make sure that he organizes everything in advanced. When John travels he completely disconnects, he would monitor emails and do Instagram stories, but for the most part of his work, he will be completely checked out.
"For me, freedom is the ability to choose, what you want to do, when you want to do it, and how you want to do it…. and that's the life that I created for myself."
But building the perfect business can also take away your freedom, it is really important to learn how to automate and create a freedom business.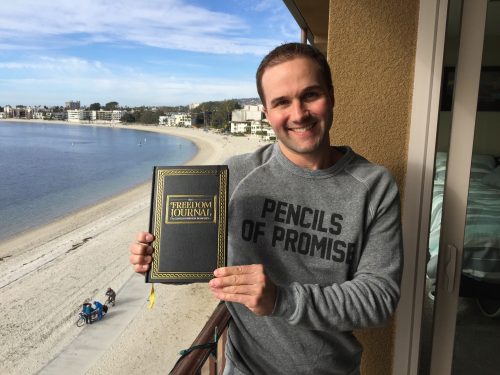 The Have-To vs. the Want-To.
John doesn't have to do things anymore, he rather decides to do what he wants to do. He really doesn't feel overwhelmed by doing things anymore, he just chooses to do everything.
According to John, there is a time for all of us when we really do have to do things. For example, when you are building up to something and trying to find your way in and leave a mark, you might have to do things. The process is hard and it requires a lot of…
Discipline
Hard work.
Real focus.
There might be some things that you don't want to do but that you have to do.
Just like going to the gym, there might be some days that you feel tired, but those are the days that are building up your character, and from those days you are learning how to improve.
Soon you'll achieve a certain level of success, where you'll be able to just say no to certain things and yes to others. You will learn how to be intentional and choose to do the things that you know you want to do that really excites you.
"And for me at this stage, if it's not a HEEELL YES! It's a no".
Having freedom will allow you to decide easily and be confident about it, but the true and real freedom starts with the mind.
The value of the steps along a journey to Freedom.
"Just keep your eyes open, keep your mind open, and just always be learning."  
Before EOFire, John was really unsure of what he wanted. He was always trying to find something, changing paths, and really trying to find more about himself. He was never sure that what he was doing was the right thing. He was constantly trying and failing on many things.
In his late 20s and early 30s, John was trying different careers, like law, corporate finance, commercial real estate, residential real estate, etc. He loved some things and hated others. But he was all the time trying to be intentional about moving towards something that he was really passionate and curious about.
And that was the right move…
At 32 years old, he started to listen to stories about businesses and interviews with successful entrepreneurs through podcasts, and he instantly loved it.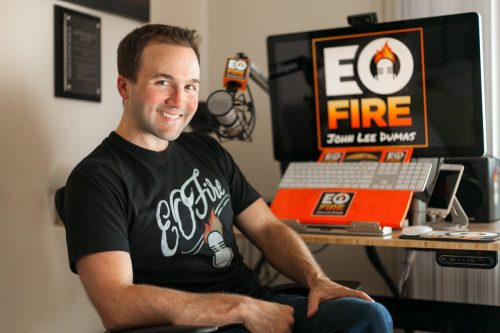 Thanks to his previous search and the constant trying and failing, he was in the right mind frame. He identified a void in the field of podcasting and decided to fill it in.
"Every step in our journey is important for different reasons, and it may not even be clear when we were actually doing it."
John thinks it is important to think back and see how every step in your life played a role in your success later on, even if it's unclear. Although your path has been a real maze, those past steps and wrong decisions are the real compass that is going to lead you towards your goal.
Influencers
In terms of the mindset and the words that come out of his mouth, John really admires Gary Vaynerchuk.
"I think he gets it as far as what it means to be empathetic and to really understand, that our biggest job as influencers and as authority figures, is to provide solutions and answers to our listeners' biggest problems."
John is really influenced by Gary, but he doesn't want to create the same kind of lifestyle that he lives, instead, he wants to live more a Tim Ferriss-type lifestyle. Where he builds businesses and moves out of the way, or automates them.
Be patient but don't miss that next big wave.
John prefers to use months (or about 100 days) to visualize himself into the future instead of using years.
According to John things are changing so quickly. New technology platforms are coming out each day, and so the game could change really fast.
"So to know what I am going to be doing 2 years from now, I just don't spend any time and energy or bandwidth on that because the world is changing so fast."
John suggests keeping the eyes open and always looking over the horizon because something big is always coming. Podcast, Twitter, Youtube, Snapshot, Periscope, Instagram are all having their time now, but something big is always on the way.
"Be patient, identify it and when you see it, jump on it." 
Being a content creator, John uses multiple channels and platforms to reach out for his audience. He does not only creates a podcast after an interview, but he also creates an Instagram story, a Youtube video about it, a Facebook post, etc.
Building a successful podcast.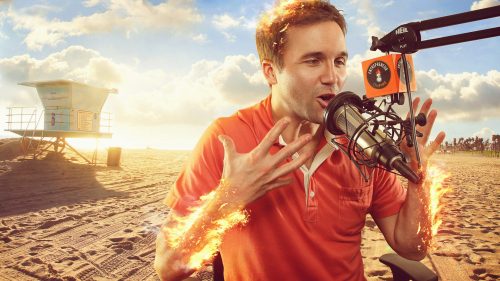 "Identifying a niche, that's not being served to the level it should be. And then filling that void with valuable content, that's what wins."
John suggests first recognizing your passions, identifying if that is not being served in any way shape or form, and coming in to fill that void with high level and a lot of value to the audience.
That alone is a ticket to win.
It requires a lot of energy in the beginning but sooner or later your audience will unite as a tribe. You will be able to build from those first few readers, listeners, fans, and followers.
In a nutshell:
Assess yourself.
Recognize your passion.
Find a niche that is not being served.
Provide value at a high level.
Win the audience.
Build from there.
How to launch work that matters?
"Once you free yourself from the need for perfect acceptance, it's a lot easier to launch work that matters." Seth Godin
John failed to launch EOFire right away. He aimed to launch the show on Aug 15, 2012, and when he was ready to go, he was terrified, because he thought that it might fail.
Today, John looks back and knows that delaying that launch was a silly move. Because it is better to find out quickly if something is not going to work. He is committed to launching fast.
As soon as he wants to try something new, he just goes for it. He decided to have fun doing it, not caring for the perfect acceptance, to learn from there and improve it on the way.
"All that matters is you launching, and getting that content out to the world and then just adjusting off the feedback of the people that are consuming it"
If you have fear of launching?
John suggests joining a mastermind group. Have 2 – 4 people around that you respect, who are in a similar place as you are, and meet every week to set goals, and hold each other accountable to these goals.
Some routines and daily practices:
Aside from conquering his fears every single day…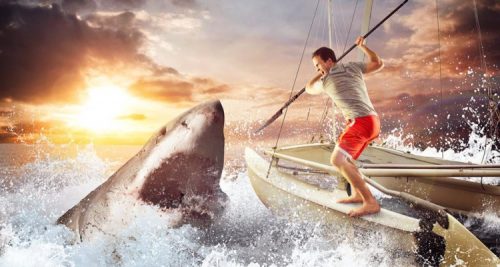 John also loves doing the following things
Exercise
Journaling
Meditation
Infrared Sauna
Listening to Gary Vaynerchuk audio experience.
Thanks, John Lee Dumas!
John wants to help you for free…
He has interviewed over 2000 successful entrepreneurs and the one thing that he found, they all have in common is that they identify their big idea and they go all in. So he created a completely free training for you, it's called three hours for your big idea,
So just visit, YourBigIdea and in three hours you'll have your big idea.
Other places where you can find John?