How To Design Your Lifestyle With Jesse Ortiz

Yuli Azarch | June 25, 2018 | No Comments on How To Design Your Lifestyle With Jesse Ortiz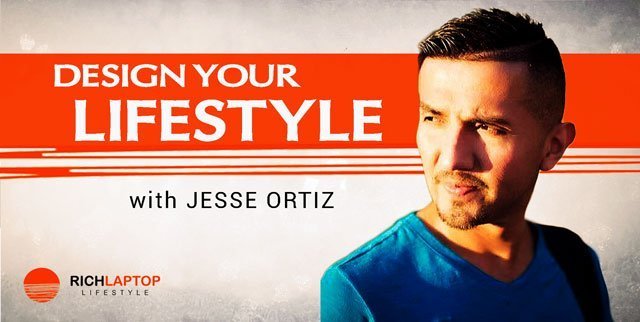 Jesse Ortiz, a life/biz coach who has inspired many people to start designing their lives and start their journey.
Jesse is a lifestyle designer and offers advice on relationships, personal growth, and lifehacking. He's also the host of his own podcast called Lifestyle Conversations where he shares his personal experiences and his teachings.
You can find him on his website, too.
Lessons from this episode:
Jesse's Morning Routine
How Jesse's Journey Started
The Importance of A Mentor
What is Lifestyle Design
How To Design Your Lifestyle
Jesse's Quickfire Last Questions
Jesse's Morning Routine
One of Jesse's non-negotiable things is meditation. After struggling with setting a routine, he found out that a 5-minute meditation hit the sweet spot and got him ready to go. He cites several 5-minute meditation videos you can find on YouTube.
Another exciting thing about Jesse is that he has a vision board and that's the first thing he sees in the morning.
In his board, he has pictures of Tim Ferriss, Scott Adkins, Connor McGregor, his family, his ideal business, and pictures of the places he wants to go to.
How Jesse's Journey Started
Jesse lives in Houston, Texas and used to work in a corporate job before his journey started. He even describes his past self as a corporate zombie.
To him, this is pretty much the way many people live, but it's also one of the awakening moments most of them have, he included.
That's the moment when people start to ask themselves questions about their lives and try to wake up from their corporate slumber:
He says,
"You start asking yourself these questions. Everything's going fine and you're getting paid but you ask yourself: is this all that really is, 20 more years of this and then retire?"
That's how he started and got him to reading more books and listening to more podcasts.
In fact, there's a book that he cites as the Holy Grail of entrepreneurship books. That book is "The 4-Hour Workweek" by Tim Ferriss.
And not only impressed him; it also did it with me when I first read it. That book is awesome.
The thing with the 4-Hour Work Workweek book is that it offers very humbling lessons that help you go through your lifestyle design journey.
During those months, Jesse also experienced some rude awakenings and issues in his personal life. He went through a divorce; he got laid off from his 10-year corporate career in Houston Oil & Gas Industry. All those setbacks changed the way he used to think, changing his mindset drastically. He said, "I used to say things like, if I take a risk I would lose."
But truth is, he realized, that life can simply take things from you without a warning and your life can shift in a moment.
So, if that can happen, why not taking control and make that shift to something you really love?
Jesse realized that, yes, life can screw you, but you can turn those problems into teachings.
The Importance of A Mentor
When he was laid off, he was forced to, literally, take a plunge. That's he found another of his core mentors, Les Brown. There's, in fact, a phrase from his mentor Jesse quotes that gave him the fuel to just do it.
"If you have something special to do; and you have the courage to do it, the world will move on you."
Soon after, he found his voice. He got the push he needed to make it happen. He took control and created his lifestyle.
There are many fears about finally doing what you have always wanted to do, but getting a mentor can certainly give you the extra courage to wake up and make things work.
What is Lifestyle Design
Jesse discovered lifestyle design when he was in his sabbatical after being laid off. He even took some of his free time and started traveling. Even though he didn't go abroad, he traveled extensively within the US and found that going to different places doesn't have to be that expensive.
That if you plan your travels.
And that's another important thing of lifestyle design. You have to start planning and stop letting fear control your life. In Jesse's words, lifestyle design is:
"Lifestyle design is planning and outlining what exactly brings you joy."
Jesse sees life without design as a joyless cycle where we are stuck like a rat in a wheel working to pay for things we don't actually enjoy.
The thing about this mindset is that you can't see it when you're in the middle of it. You don't know what's causing you discomfort or how to fix it.
That's why awakening is so important.
Start to ask yourself, "what brings me joy?"
And you will see that you don't need much money to start doing things.
How To Design Your Lifestyle
We're living in a wonderful age where you can build a business from scratch with almost nothing. Or, at least, it's much easier than five years ago.
We have much more control over our lives than we think and instead of using that control, we let our material things control us, and that leads us to unhappiness
Like Jesse says, lifestyle design is centered on "health, wealth, and just happiness."
So, let's give these three pillars of lifestyle design a look:
Health
Health is one of the primary things we need. And that goes even beyond being an active person that's into sports or physical activity. However, if you exercise, your body will thank you because, in Jesse's opinion, exercise makes you receive life with more gratitude.
Jesse sees living a healthy lifestyle as one of the keys to success. For instance, working out can be a joyful, stress-releasing experience that doesn't cost you a ton of money.
Jesse's power workout is a 3-hour, 3-times a week, gym routine that's composed of cardio, weightlifting, and stretching.
He says
"When I see people leaving the gym after an hour, I ask myself "where are they going? I'm just starting."
Another of his "biohacks" if you want to call it that way is simplicity.
Our bodies know what's good for us and what's not, just follow that. He also tries to hack his time, finding more convenient ways of doing things and spending less time on chores he can have others do such as meal-prep and cleaning.
Wealth
This has to be with what your passions and business ideas are. Whatever related to entrepreneurship, career growth, and work because work can also be a therapy.
As long as you take it easy and without stress or fatigue.
To him, wealth also has to do with relationships with your family, partners, and everybody around you. This includes networking, meeting new people, or connecting with others.
In Jesse's mind, wealth is not making a shit-ton of money –which is not a bad thing– but living a rich life that brings you joy.
Jesse cites an example that's a pretty good example of this. He says,
"I've had people on my podcasts who have "made it" and making 7 figures, and they all mention their passion for what they're doing. They don't say "Now that I make this amount of money, I'm happy." And that passion is what wealth represents for me."
In short, building your passion is what makes you feel fuller.
Happiness
Let's face it: the struggle is real. In the beginning, things will be harder. Bills will come, and money might not be plenty, but once you start trying to make yourself and your passions self-sustainable, all the lessons you've learned will make you one step closer to your goals.
Another thing that will bring you happiness, in Jesse's opinion is understanding your timing because there's no use on rushing things. In Jesse's opinion,
"You have to be patient with your process. If you want the abs or the pecs somebody has, you won't get that in six months. They got that by working out in the gym for years. The same goes for business."
Happiness comes with persistence and learning from your failures, so you remind yourself to keep going.
If you expect to see results right off the bat, you won't be happy. You will spend your time waiting for results instead of enjoying the process.
Self-doubt is perfectly normal, but it undermines your confidence and stunts our personal development. Remember, the difference between an amateur and a professional is persistence.
Jesse also mentioned intention as one of the main drivers of a person's life. You need to have an intention behind what you do; otherwise, your energy will just dilute, and you won't accomplish your goals.
Jesse's Quickfire Last Questions
What's the most exciting thing you've done in the last 2 weeks?
Networking and speed dating. Jesse cites his recent relationship failure as a dip in his life and, being a single dad, it has been hard for him to get back on track, meet new people, and build connections, but these two weeks he's been putting himself out on the social spotlight.
What's the first thing you do when you start your workday?
He drinks coffee. He prepares himself two kinds of coffee: bulletproof coffee and caveman coffee.
What are the three things you can't leave your house without?
He cites only one thing: a journal so he can remind himself what he has to do and what he has done to keep himself accountable and remind him his journey.
Jesse's Bedside Books
Psycho-Cybernetics by Maxwell Maltz
The Millionaire Fastlane by M.J. De Marco
That's it for today, everybody. If you enjoyed this episode, don't forget to comment and leave your feedback.
All the best until next episode,
Yuli