Building A Multi-Million Dollar SaaS Business with Kyle Racki from Proposify

Yuli Azarch | June 4, 2019 | No Comments on Building A Multi-Million Dollar SaaS Business with Kyle Racki from Proposify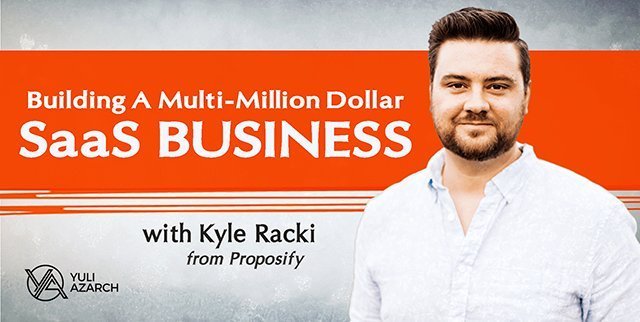 Watch the interview below:
Listen to the interview below:
Kyle Racki is the co-founder and CEO of Proposify, a multi-million SaaS that helps over 8000 sales teams to diversify the sales proposal process. He is also an angel investor and the author of the book "Free Trials and Tribulations. How to build a business while getting punched in the mouth."
Kyle also runs his Podcast called "LTV with Kyle Racki", where he discusses the challenges and victories of startup founders.
What we discussed on the show?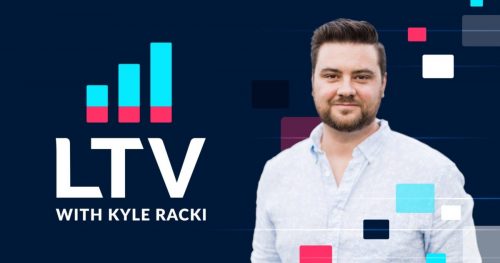 Kyle Racki's Background.
Kyle studied and graduated as a graphic designer. In the mid-2000s he started into web design and taught himself how to code. Around 2008, Kyle Racki went on his own and begun doing freelancing jobs. About a year later, he and a co-founder, started a web-design agency called Headspace.
He worked at his agency for about five years. Over time they built a couple of SaaS products, most of which failed or got discontinued, but the one that remained was the Proposal software.
They named this software, Proposify.
Around 2014, they sold the Headspace business and went full time with Proposify. In 2015 they found some traction and were able to scale. Now they are about 65 people working, 8000+ customers, and about 6 million in annual recurrent revenue.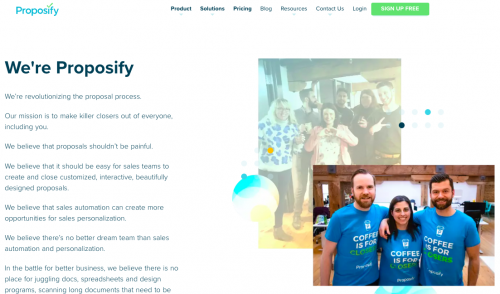 How Proposify Started?
One of the first tasks that Kyle had as a junior designer in the first agency job was working on proposals. According to him, It was a chaotic and messy experience. He had account managers who were trying to get proposals out the door, so they got the junior designers to work on them to make them look good.
Kyle has always been drawn to software applications, mainly Basecamp. He was using it in the agencies and later as a freelancer. Behind the messiness of the proposals process, he got the idea to create the version of  "Basecamp" for proposals.
"I thought that it was a dumb idea, and maybe nobody would want that. But it was just sort of a fun little side project that I started designing in my basement one night. And then literally sat on it for years and it wasn't until later when running the agency that we put it to use."
While running his web-design agency, he had to train account managers to use InDesign, because the design was essential to the final look of the proposals. But InDesign had limitations; it is complicated to use, not easy to share files, and collaborate. So the solution was to have all work-flow improvements that InDesign doesn't have but made explicitly for proposals.
It wasn't until a few years later when Kyle Racki and the co-founder Kevin Springer, were having a lot of trouble with cashflows, long sale cycles waiting the be paid, and projects going over budget. They thought it would be great to have recurring revenue coming and know their reserve for the coming months.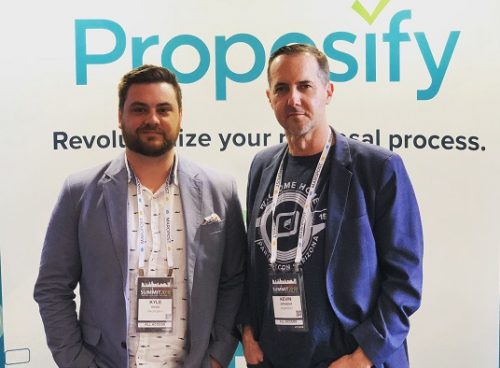 Finding a Market Fit.
"Sometimes people look at where you are now, and they all assume that it all happened quite quickly."
When they launched the first version of Proposify, they only got a few people to sign up and try the product. Most of them didn't come back. Initially, they got very few paying customers. They would always celebrate every time a new customer joined but afterward, they would lose two clients.
According to Kyle, the first product had a very poorly designed UI. They were making a lot of assumptions about how people might use it. So it was a period of continuous iteration, launching rapidly, talking to people, figuring out what wasn't working, and improving upon it. That was one of the main ways that they started getting product-market fit, but it was a long process.
According to Kyle, it took about 17 months, from when they launched the first version to when they started finding a product-market fit.
"The only advice there is you have to put out something ugly and something clunky, just to get feedback on what exactly doesn't work so you can fix it."
When Kyle and Kevin went full time with Proposify, they were able to focus on day-in and day-out — talking to customers, fixing bugs, fixing screens, brainstorming new ways. During that time, they learned that there were two features that most customers wanted. One of them was online signatures, and the other one was simplifying the way that people use templates. Those two features together were like a catalyst. They started doubling on the number of customers month after month, after realizing that.
Enduring Slow Growth.
According to Kyle Racki, it is complicated to start and scale something as a side hustle. Most people think that they can build a product on the side which will magically take off, but this is not always the case. It takes real focused work to start and grow something.
Once you get to do the work, you'll gradually grow every month. But growth is not a straight ladder. The real challenge is to get through the usual long flat period while remaining focused. According to Kyle, everything you are doing from the beginning, will take effect and show over time but after through that tough period first.
Kyle believes that growth is a ladder but never a straight line. Most scaling companies have all sorts of flat months, then high growth periods, and constant dips.
"I remember it was an exciting time because it was only three-four at the company. Now we had the challenge, were revenue started to grow, we are getting to a point where we didn't have to worry about running out of money, but now the challenge was, how do we scale this thing?"
Kyle and his co-founder started to hire the right people from the beginning. He believes that the first ten hires at your startup are the most important because they will define the culture for years coming. The first people that started on Proposify are the ones on the leadership team, today. They helped figure out, the core values and hired a lot of the people in the company.
Proposify CEO @kyleracki sharing some of the secrets to our growth success at #getamplified2018 pic.twitter.com/PeGObpPkr7

— Proposify (@Proposify) November 13, 2018
About Risk and Backup Plans. 
In the beginning, Proposify had money to run for six months. According to Kyle during that time Proposify wasn't worth anything, so if it didn't work and they ran out of money, then that was ok. Having very little, allowed them to shoot for the fences. Kyle believes that most people will aggressively protect what they have, which sometimes makes them make bad decisions.
"Honestly, I worked my ass off, so that we wouldn't [run out of money] but at the same time, I always had a backup plan in my mind. I wasn't 100% sure if this was going to work, but when it finally did, I wasn't expecting that."
According to Kyle Racki, people often put too much emphasis on risk. Regarding a point on his book "Free Trials (and Tribulations): How to Build a Business While Getting Punched in the Mouth," entrepreneurship is not that risky.
Being an entrepreneur means going out on your own and starting a business, or becoming a freelancer. You'll likely create an effective plan and an escape route in case it doesn't work. You can reduce risk by creating a backup plan, like going out and finding a job, or relocating, etc.
Playing the entrepreneurship game will likely bring stressful times. Mainly when you raise money from Venture Capitalists, and you are not hitting targets. If you have to fire people off because they are not able to perform, can be stressful. In the end, losing VC money or firing people might only hurt relationships, but everybody will survive this.
According to Kyle, there is almost always a safety net in a lot of entrepreneurship ventures. He believes that a lot of aspiring entrepreneurs place too much emphasis on risk.
Raising Money for Proposify.
According to Kyle, he never liked the current model that most SaaS and startup entrepreneurs use to raise money, which is like a gamble. He and his co-founder were against that common path which was to use money from VCs, Growth Equity, Angel investors, or Super Angels Investors.
"You are [basically] going to convince a VC to give you a couple of millions, and generally, that'll put you on a certain path. Which gradually you are losing control of your business."
Kyle believes that no VC will give you money without taking board seats, which provides them with power for voting in the big decisions. And of course, if you take VC money, you'll lose a certain percentage of your ownership. On top of that, you need to spend aggressively to hit much higher growth targets, and if you don't accomplish them, there are a lot of consequences.
He believes that with that model, it is common for founders to walk away with nothing.
Kyle and Kevin were against that model, so they ended up landing a similar deal as Basecamp. Basically, the investors put money into the business to allow growth, but the co-founders get to take what they call secondary capital.
According to Kyle, being able to take secondary capital, means that you can be in it for the long run. You can also turn down acquisition offers if they are not the right ones because you don't have that stress of hitting aggressive targets.
Having this secondary capital took off a lot of stress away and enabled them to think strategically and long-term on the business itself. The first capital in the company helped them hire more, build bigger departments, and scale the product.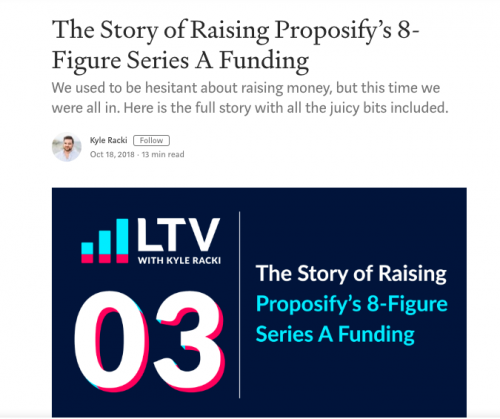 Steering and Running the Machine.
According to Kyle, even if you are running a small company, you always have to be looking ahead at what is next. The book called "The Innovators Dilemma" talks about once your company scales, it becomes a much slower engine so changing and adapting to markets and disruptive technology becomes extremely difficult.
Kyle suggests that being on the lookout is a good practice. Look at where you are standing,  look at your competitors, study the habits and behaviors of your customers and other people in the market.
It is vital for founders to take time out regularly to think the strategy and look long term. Kyle believes that founders are usually focused on day-to-day tasks and not on strategizing.
"One of the most important skills of a CEO is to learn how to hire the right people, and how to be on top of what is going on in the business. But at the same time, set the vision, the direction and make sure that it is communicated to the team".
Kyle believes that one of the most critical decisions he made was hiring Dan Martell, a business coach. He got him into the right books and systems to learn how to be a good leader and scale a business. One of the books was called "Traction" by Gino Whitman, which showed him the EOS "Entrepreneurial Operating System," a framework for running a business. He also learned from another book called the Radical Candor, to develop the skills to be a good leader and empower a team.
According to Kyle "anything that creates a mentality that your business is a machine," can work, "and your job as a founder isn't to become a cog in the machine, … but  to run the machine and make sure it is running smoothly."
My new book, Free Trials (& Tribulations), will be launching on 1/29. Whether you're looking to develop a product, find a business partner, raise money, or scale a company—the lessons in the book can help you come out on top, no matter how far down you started. pic.twitter.com/iTS3aAizog

— Kyle Racki (@kyleracki) January 9, 2019
Final Thoughts.
Kyle thinks that one of the fastest ways to hit product-market fit is to validate an idea by just being able to iterate faster, learn faster and ultimately ship products that customers want.

Learn how to be agile, apply your experience, and you will grow quicker.

Kyle recommends reading books like "Trillion dollar coach by Bill Campbell" or Hiten Shah's blog

https://hitenism.com/

He advocates learning as much as you can but also putting the advice it into practice. Blogging and creating content is helpful. Take those lessons and share them with other people.

Most entrepreneurs are going to get a punch in the mouth at some point, whether it is through family, debts, financial difficulties, bankruptcy. The real test is who would keep going. The ones that are usually successful are the ones that kept going.
Show Notes.
Thanks, Kyle Racki!
To learn more about Kyle, check out his website https://www.kyleracki.com/, you can also learn more about how to build a business and his story with this book "Free Trials (and Tribulations). For more information about the company Proposify and the team, check its about us page.