The Problem With Free Information (And Cheap)

Yuli Azarch | October 22, 2015 | No Comments on The Problem With Free Information (And Cheap)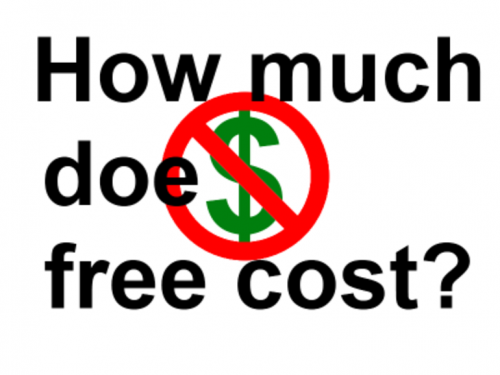 If you are serious in any way making money online, you probably need some guidance of where to start. You usually will find that guidance with coaching or information products and blogs across the internet. With so much information that can be found on the web, there is a lot of free access to information, as well as cheap access to information. There are good things about it, and bad things as well.
I would like to share my opinions of free products, and free information about making money online which you can find on the internet (This can fully relate to information not only about making money online, but also about any kind of self development information). Lots of people are freebie seekers, they're looking to get a product just for free, and not willing to spend a lot of money on it, and not a lot of people are willing to take the capital and hire a coach for example, somebody who will guide them 1 on 1 and will make sure they are on the right path to success online. Some don't even want to pay anywhere from $1\$2 on an information product which can push them on-wards, and expect to start making thousands of dollars per month.  I find this kind of approach very flawed and it will hinder you from getting the success you deserve online. I feel very blessed that my psychology shifted a few years back, and I took the decision to invest in myself first, and I am sure it will reap dividends for years to come as I continue doing that: I started buying information products about how to make money online, and then I started investing in seminars, and hiring coaches in my life, even when I barely had any money to do that, I knew I will gain back ten fold from every dollar I spent, which I did, and I am sure I will continue doing so from everything I keep investing back in myself.

By not willing to invest in yourself, and looking only for free information, you are limiting yourself of lots of potential life-changing information and guidance that otherwise is just not accessible for free. The reasons are the following:
1) If you are going to get a product which is completely free. Didn't pay ANY money, whats so ever, didn't invest any energy, didn't invest anything. Everything got laid in front of you. It can be the most amazing product in the world, it can be a product which completely change your life, if you will literally implement it and follow through. The odds of you actually following through drop a lot, and most people will not benefit from it, because you do not have any leverage, and didn't spend anything from your end to get it. When you spend money out of your pocket for information, you gain leverage. Just because you spent a big portion of your money for a product or a coach, this alone will make you hustle, and do whatever it takes to return the money and make the investment worthwhile.
If you will pay for the same product or coaching a certain fee, which will hurt you a bit by giving it away. Just from the fact that you put in money out of your pocket, your chances of success rise, because now you have LEVERAGE! You are not just gonna sit down and do nothing afterwards. You'll want to make returns on your money, you'll have a drive inside to invest your time and energy in order to get this thing working. When things will be bad or hard, and they will be, you will have an internal drive to push through, as opposed to giving up when it happens.
2) Most people will not give away their best information for free. The internet today is simply overloaded with information, and you need to be very careful to what you read, listen. You can read a ton of free content on how to make money online. Unfortunately, most of it will not work and you will fail, simply because the information itself is just not good. You could have gotten the right information which can show you real ways how to make money, instead of trying things which ahead of time were simply not good.
This is not to say there is no good information only for free. There are many great blogs out there actually, and great free information which can give you a push. Many people who really want to simply give from themselves after achieving some success. Unfortunately, most of the time is isn't, so you need to be very careful in my opinion with who you are following and what you are reading, and if you want to take a serious push and start getting results a lot faster, you will need a product or a coach that will guide you in the best direction.
3) If you want to get the best results, you need to hire the best. This approach always made sense to me. Since I got into the self development, I never connected to many speakers, but I always connected to Tony Robbins, and I am a huge fan of his work, and he is considered to be the #1 coach in the world. I have decided to go to his seminars, and invested around $15,000 for attending his seminars, when in fact I barely had any money. So if you want to make money online and looking to hire a coach, going cheap is not the right away as well in my opinion. If you want the best results, get the best people to work with you. If you want mediocre results, get mediocre people to work with.
Invest in yourself, invest in quality information and people and it will return the results to you in no time.
5 Minute Action Step: Decide to make an investment in yourself today! This can be a few dollars worth of information product, or anything bigger, something that can improve your life in some way.