The Many Challenges Of Blogging

Yuli Azarch | January 23, 2016 | No Comments on The Many Challenges Of Blogging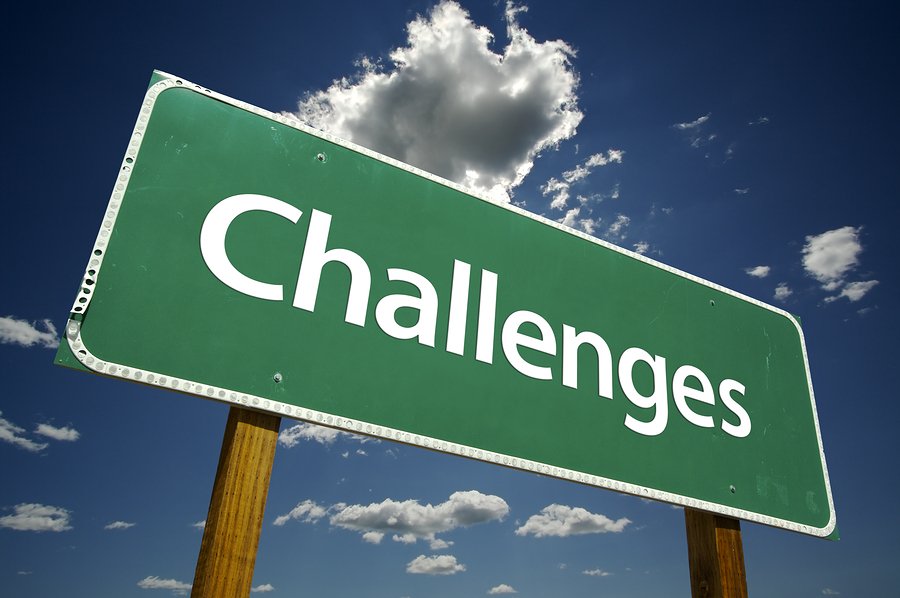 I wanted to openly share the many challenges of blogging I am having with writing this blog. Maybe other bloggers are feeling the same, and maybe not, but running a blog is not the easiest thing in the world for whoever wants to start one. It requires time, attention, energy, thoughts, caring, planning, writing & marketing – And you can rest assured that every successful blog out there, is something the author and creator has put it's soul into it, including a lot of time\effort. Some people work full-time just from blogging as well, and that is their full-time job.
I keep reading that it can take anywhere from 1 year to 2 years until there is a tipping point for a blog to actually start getting exponential growth, with the traffic coming in. So if you want to open a blog, you better be prepared to be pretty persistent with your efforts, and nobody sees, in general, the labor\efforts behind any kind of success and only the final results. It is shocking to read that many of the most successful blogs in the world today, actually were writing for anywhere from 1-2 years, before they had any kind of traffic, any kind of readership, traffic, fans. But they stuck to it, kept writing what they are passionate about, and rose from there.
I love the following quote by Tony Robbins which I relate to: "People are rewarded in public for what they practice for years in private."
I also love the following picture, which describes success as an iceberg, and nothing can illustrate things better then a picture.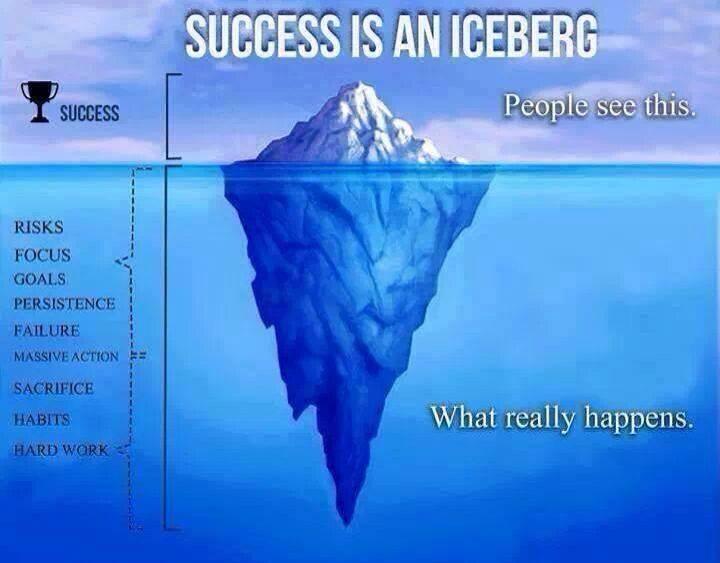 With that, here are the many challenges of blogging which I am personally having:
Being open to the public: Everything that is put out on the blog, and launched into the internet, is something that you cannot go back on. In the world we live today, if something is inserted into social media and the web, you cannot take it back. With a blog, I am being very personal and open to the public, everybody can read my goals, different thoughts I am having. I also write about where I am located as I am traveling the world, as well as my income levels. From one point, it internally can drive me to be more accountable to my goals and actions, but also, I am not used at all for being so open in the same time. I am relatively quite a private person, and love to keep things private, with the people that are closest to me. Being that open and 'vulnerable' with this blog, in a way, is a very new experience for me. I find it very challenging as well to share exactly my sources of income, and other personal things, and I find that I need to force myself out of my comfort zone to do that with previous blog posts, and future ones I'll need to make.
What will others think? I found out that I had this question running in my head many times throughout the last year, unaware of it. I am running the blog for a year, and the first time I put a link to it on my Facebook profile, so people can enter and read, was about 2 weeks ago. I realized, I was hesitant of what people may think. It's still an internal belief I need to chalenge, conquer, and remove completely, to something much more empowering. 80% of any kind of success is psychology, and I always work on improving that, installing new empowering beliefs\habits\rituals into my life, and need to remove some dis-empowering I still have which are related to the blog.

Time time and more time

: It takes TIME to write a blog, to make blog posts, to design the blog, market it, and anything in between. I have multiple businesses\projects I am running, and I am actively travelling the world (17 countries in the last 12 months). This blog is not a source of income to me, and I am not planning or writing here with any income intentions. It is a place for me to share my thoughts, ideas, and inspire\empower others. I find myself in a big challenge to force myself to write on the blog because it takes time. Not only anyone who started running a blog, that if you want high-quality content and blog, there is no other way around it, time needs to be invested. Same thing for any other business\project of mine, and I feel sometimes I should spend my time on my businesses, which are a direct source of income to me, where I can grow my income, instead of writing on this blog, which is a personal project of mine, with zero financial intentions. I enjoy every minute I spend on this blog, and will continue blogging, but still, it is a challenge. In order to combat that, I created a structure, where I have specific day and time, where I focus on my blog, and work on progressing on it.
Low amounts of comments\traffic: It is tough working on a project sometimes, without seeing results right away. Progress beats the crap out of fear. I am putting out a blog post per week on average, and many times, there are no comments at all. As with my businesses, what matters and what is more challenging, is what you do in the  point of frustration\pain and not when everything is going awesome. The challenges of continuing working on something without seeing immediate results, is most certainly there.
High-quality life changing content: This challenge is interconnected with the challenge of time. In order to produce high quality content, it can take sickening amount of hours to produce it. I am not interested also just putting some random content here, I want to put the highest quality, and life changing content. So it can really empower, inspire, and help others to improve their lifes. To help them live the laptop lifestyle I am living. With a restricted amount of time I block for the blog,
Personal back problem: One of my top goals is to remove back pain which I have when I stand\sit for long periods of time, something I have for years. This prevents me working many times as much as I want to on my projects (which is also a good thing – forcing me to not over work as well), including the blog, and also I don't control when I have a good day or bad day with my pain. Sometimes, I am unable to work on a particular day in front of the computer at all. Sometimes I can produce 8 hours a day. If all of a sudden on the day and time I planned working on the blog, I am having back pain, it screws my structure\times.
What to blog about: I am passionate about a lot of things, including travelling, making money online, health, productivity, finances, personal development, and each of the businses I run among other things. One challenge of mine, is what exactly to blog about. This blog is about creating the laptop lifestyle, which is not necesarrily 100% has to be connected with only a laptop, because for me it can easily be about making your lifestyle and life much better then it is now, improving it and creating it for a pretty extraordinary one. I personally don't want to blog only about travelling, and I also don't want to blog only about making money online. I also don't want to run a blog only about productivity & personal development. The challenge for me is to find exactly what to blog about with the specific subjects on a regular basis, while maintaing a direct theme with the core subject of the blog.
Video editing & producing: One idea which I had in mind, is to produce videos on a regular basis, into my own YouTube channel. It may not be the most challenging thing in the world, but I have absolutely zero knowledge about how to edit videos to make them more appealing, as well as my camera of my phone is very bad. I need to buy the newest iPhone to get a better camera, to overcome the camera issue, as well as to simply hire somebody to do any editing for videos I'll produce. It is funny how just writing down challenges can help you know the solutions, pretty easily.
Are you a blogger and having any challenges at all? Would love to hear, please leave it in the comments below.