10 Reasons Why To Move To Thailand In Order To Start Your Lifestyle Business

Yuli Azarch | August 23, 2015 | No Comments on 10 Reasons Why To Move To Thailand In Order To Start Your Lifestyle Business
Thailand has been one of my favorite places for a very long time. I first visited Thailand 3 years ago and I fell in love with this place. Thailand is unique in many ways, it has many aspects & that can attract any kind of person based on your interests, and it is also in my opinion simply a perfect place to start a lifestyle business & work online. It is a perfect place to do so and the 10 reasons are the following.
#1: The Internet in Thailand is perfect. Quick & reliable. Very important for anybody who is basing their income on it. I haven't been in many places around the world, where the Internet is so good as here & stable. There is Wi-Fi is everywhere, it is fast on the smallest islands, and on more bigger places too. On top of it you can you can get 3G package for your phone for a very cheap price ($15 per month) with 4GB package. In case the Wi-Fi is not working you can activate your phone and use the 3G, and you will not feel any change in speeds. So if you're going to work online it's very important to have accessibility to Internet, which is something you can get all the time, something which is not the same in other countries from my experience. It can make things and life hard when you are depending on Wi-Fi and it is highly unstable.
#2: Thailand is dirt cheap. Who doesn't like cheap places, spending little money & getting a lot in return? Thailand is one of the cheapest places in the world to be in, all the while you get a lot in return for the money being paid.
– You can rent a place for a really cheap here.
– You can eat for very cheap
– You can do various things that are cheap, such as massage, renting bikes, yoga, Muyai Thai Boxing
You can keep your expenses actually very low and have a fantastic lifestyle.  If you're working online there's nothing better than earning at $ USD and spending your money in Thai Bahts.
See my post of "How To Live Like A King Below $1101 Per Month In Thailand"
#3: People are very good and very nice. It is a different experience when the people around you are hostile, or good, nice & friendly. You may have heard bad things about Thailand, and the people here, I know many have. My honest opinion: it is simply wrong. I haven't seen anything bad, I've never had anything bad happen to me here. Unless you go at 3 AM drunk at the streets of Bangkok, or go to more slizzy places you will find that people in Thailand are actually very. When you land in Thailand, they are advertising themselves as "The Land Of Smiles." Nobody's ever tried to do any harm to me here and I always received a smile and help when needed.
#4: Tropical lifestyle. I mean, this is something most people dream about, no? In Thailand you can make your dreams a reality, in an easy, practical & cheap way. Thailand is considered to have the best beaches in the world, and they are stunning here! And this can be your place of living, rather a short vacation. If you will spend time here, you're going to have a tropical lifestyle. The food will be tropical, as well as the weather, and this can be one of those pictures that you see on travel brochures, rather just see it with your own eyes on a daily basis.
#5: Big community of people who already work online. People like people who are themselves. So if you are working online, Thailand is the perfect place to easily find other people who do the same. Thailand actually has big community of people who live here & work online. Chiang Mai is considered to be the number one place in the world for nomads in a recent survey I read, where you can live and work online. You can find co-working spaces here in many other places as well. Very easy to connect with people really quickly in these places well which is a big plus.
#6: No burnout. As an entrepreneur sometimes you simply burn out from your work & efforts put into it. If there are some bigger projects you are working, you can work for longer hours at times. You can structure your life in Thailand to be great, so it'll be hard to burnout, because you can balance it out really easily improving your lifestyle.
– You can go to parties because Thailand has the best parties in the world.
– You can just lie on the beach and enjoy the tropical beaches of Thailand.
– You can do a Thai Massage every day.
– You can enjoy the mountains & lush greens you have here.
#7: Cheap and amazing food. Thailand has an incredible array of foods, most of it is very hard to find elsewhere and on top of it is dirt cheap.
– You have the best coconuts in the world here.
– Thailand has amazing exotic fruits, such as Durian, Mangosteen, Jack Fruit, Rambutan. They're very exotic and considered very top exotic fruit in the world.
– Very easy to eat healthy, there are man health food stores.  So if you really care about your health you'll find many health food stores.  If you are a vegan, vegetarian you will have plenty of options as well.
– Restaurants are cheap. I ate in the last month here at a buffet for $4 per meal.
#8: The best parties in world are in Thailand. Koh Phangan, which is considered to be the Island Party, and known for the biggest party full moon, which attracts every single month about twenty thousand to thirty thousand people in one night.  It's a party on the beach. Other then that, there are parties every day, and the parties are the best here. If you're a single, this is a big reason why to go to Thailand because the best parties are here.
#9: Thai Massage.% huge fan of the Thai Massage. The best massage in the world is here, and it costs only $5-7 per one hour. It is a full body massage (For those with blue head: it is not a sexual massage in anyway and it's purely a healthy relaxing massage). Price of massage at other places, such as the USA & Europe, can get to a $100 per hour. So you can see the price difference. While building your lifestyle business, you can be able to go and relax any time by having the best massage you ever had in your life for a small price of five to eight dollars.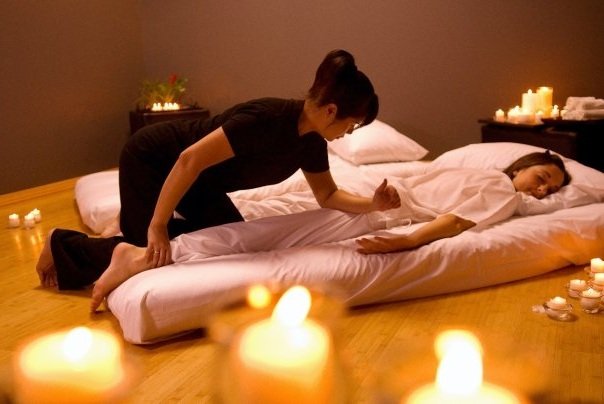 #10: Easy access and entry to the country. The visa is very easy to get, and you can do a lot of visa runs (Visa run is getting out of the country, and then going back inside). You need to check your own country rules, but for most countries, you can enter Thailand without getting any visa before, and you are automatically going to get a one month free entry visa, if you apply ahead you can actually get to two months. If you are interested in longer stays, Thailand has other visa options available as well to explore to actually give you an option to live here for a year or more as well. Some places will limit you to the amount time you can enter and exit a country unfortunately.
Leave your comments below.